Benjamin A. Gilman International Scholarship

The
Benjamin A. Gilman International Scholarship Program
offers grants for
U.S. citizen
undergraduate students of limited financial means to pursue academic studies or credit-bearing, career oriented internships abroad. Such international exchange is intended to better prepare U.S. students to assume significant roles in an increasingly global economy and interdependent world.
All applicants must be receiving a
Federal Pell Grant
or provide proof that he/she will be receiving a Pell Grant at the time of application or during the term of his/her study abroad program or internship. The program abroad must be
at least 3 weeks long in one country
.
Deadlines: Cycle 1 & Cycle 2
Cycle 1: Open mid-August; closes early-October
2019/2020 Cycle 1 Examples: SDSU students whose study abroad or internship programs start between December 2019 and October 2020 are eligible to apply for Gilman Scholarships during Cycle 1. This typically fits students whose programs are considered Winter 2020, Spring 2020, Summer 2020, Fall 2020, or AY 2020-2021 options.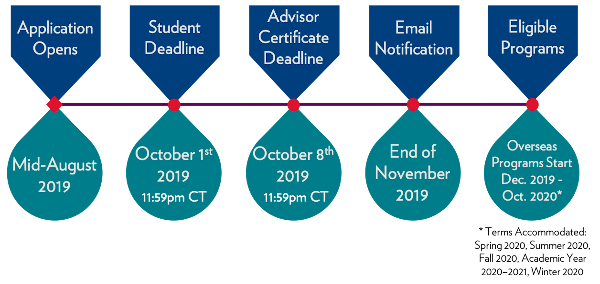 Cycle 2: Open mid-January; closes early-March
2019/2020 Cycle 2 Example: SDSU students whose programs start between May 2020 and April 2021. This typically fits students whose programs are considered Summer 2020, Fall 2020, Academic Year 2020-2021, Winter 2021, and Spring 2021 options.
If an applicant is not selected for Cycle 2, they may re-apply for the next cycle as long as they continue to meet the eligibility requirements and their program falls within the start dates.
Attend a Gilman information meeting!
Review our
calendar of events
for new meetings, generally in September and February each academic year.
You can also visit with a Study Abroad Advisor for more details on the Gilman Scholarship!